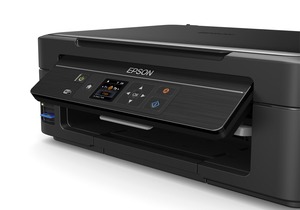 Epson L485 (Image Source: Epson.co.id)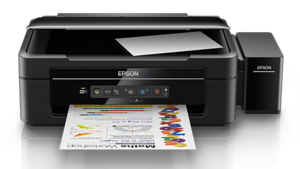 Epson L385 (Image Source: Epson.co.id)
Yang pernah pakai Epson L365 atau L455, kini sudah upgrade dan berkembang menjadi seri L385 dan L485. Kedua printer ini memiliki koneksi Wifi (dari kode 5 di belakang serinya). Namun, apa saja sih perbedaanya? Mari kita simak dahulu spesifikasinya dan perbandingannya langsung:
Superb Savings & Page Yield
Kapasitas tinggi printer Ink Tank Epson, dengan hasil sebanyak 7500 lembar untuk warna dan 4500 lembar untuk hitam
Wi-Fi Connectivity
Kedua Printer ini memiliki koneksi WiFi, namun di L385 hanya bisa menggunakan mode Infrastructure yaitu melalui WiFi Router. Sedangkan L485 memiliki koneksi WiFi Direct yang dapat menghubungkan hingga 4 perangkat langsung ke printer ini untuk dapat mencetak langsung tanpa perantaraan Router.
Epson Connect Enabled
Epson Connect merupakan fitur baru bagi printer Epson yang memiliki koneksi jaringan (LAN dan WiFi), di mana Anda dapat memanfaatkan fitur seperti:
Epson iPrint – Mencetak langsung dari gadget ataupun online cloud
Epson Email Print – Mencetak langsung melalui alamat email yang sudah didaftarkan untuk printer Anda
Remote Print Driver – Mencetak langsung ke printer dari luar jaringan yang sudah terhubung dengan konfigurasi dari perangkat Anda
Scan to Cloud – Scan Dokumen ke email atau cloud storage
Apple AirPrint
Google Cloud PrintTM
MopriaTM Print Services
Untuk info lebih lanjut mengenai fitur dari Epson Connect, dapat Anda pelajari di http://www.epson.com.sg/connect
Epson Warranty for Peace of Mind
Tanpa perlu risau akan masalah operasional karena Epson memberikan garansi hingga 2 tahun atau 30,000 lembar. Sehingga Anda tidak perlu ragu akan masalah yang timbul pada saat printer Anda.
Ease of Use
Pada L485 ada tambahan Layar LCD 1.44″ berwarna, memudahkan pengoperasian dan konfigurasi WiFi, serta kemudahan mencetak langsung dari Slot Memory Card yang tersedia di L455 (L385 tidak memiliki Layar LCD dan slot memory card)
Fitur FotoCopy
Pada L385 Anda dapat mengCopy hingga maksimum 20 Copy, sedangkan pada L485 karena memiliki Layar LCD yang memudahkan pengoperasian, L485 dapat mengcopy hingga Maksimum 99 copies, serta Memperkecil hingga Memperbesar 25-400% dengan Fungsi AutoFit.
Demikian perbandingan fitur-fitur pada L385 vs L485. Semoga dapat memudahkan Anda dalam menentukan seri yang sesuai bagi kebutuhan Anda.
Pada saat artikel ini di rilis, Harga L385 pada kisaran Rp. 2.750.000 dan L485 Rp. 3.500.000. Untuk harga dapat berubah sewaktu-waktu.
Nantikan comparison dari kami lebih lanjut.